Arrow Christa Quilt Blocks
Vendor:
Arrow Sewing Cabinets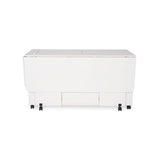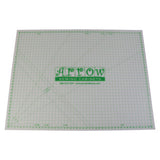 Description
Christa's Quilt Blocks
Keep your projects from falling overboard with Christa's Quilt Blocks! Designed by award-winning quilter, Christa Watson, Christa's Quilt Blocks were created to act as a guard rail that keeps quilts and large projects from sliding off the side or back of your sewing cabinet! Quilt Blocks are available in 4 finishes, and will work with all major sewing cabinets. Each pack includes 2 Quilt Blocks.
Quilt Blocks prevent quilts and large projects from sliding off the edge of your sewing cabinet
Designed to work with all major sewing cabinets
Reduces friction on quilt for straighter stitches
Easily install on back or side of sewing cabinet
Low profile won't block your view while sewing
Each box includes 2 Quilt Blocks
Available in 4 finishes: White, Oak, Gray, & Ash White
Designed by award-winning quilter, Christa Watson
Dimensions
Single Quilt Block Dimensions

20 13/16″ W x 5/8″ D x 3 15/16″ H

Quilt Block Clamps

Furniture edge must be 20mm or less for Quilt Block clamps to attach
Shipping Info
Arrow Sewing determines shipping carrier (FedEx or UPS)
Quilt Blocks can't be shipped to a PO Box
Quilt Blocks will arrive in 1 package
More from this collection