BabyLock Enterprise 10 Needle Embroidery Machine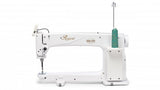 Description
BabyLock Enterprise 10 Needle Embroidery Machine
Embrace your enterprising spirit and get the most out of a multi-needle machine with Baby Lock. With 10 needles and a speed of 1,000 stitches per minute, this machine is just the thing for anyone looking for industrial-like power in a home embroidery machine. The Enterprise is perfect for your most detailed embroidery designs and can help any embroidery business grow.
10 Needles
With the Baby Lock Enterprise you get both quantity and quality. With 10 needles, the Enterprise gives you the opportunity to take on more than ever before. Large designs, multiples, or even gorgeous 10-color designs can be embroidered with minimal set-up or thread changes at a speed of 1,000 stitches per minute.


LED Colored Thread Spool Lights
If you think 10 needles is a lot to handle, the Enterprise has just the thing for you. This machine comes with 10 built-in LED spool stand lights to help you keep your threads in order. The LED lighting on each spool changes to match thread colors and signals when a spool needs to be changed.
TruView™ ASV LCD Screen
With over 16 million colors, the Enterprise's high-definition TrueView ASV LCD screen brings your embroidery designs to life. Images are displayed with more clarity than ever before. With adjustable thumbnails and the ability to magnify your designs on screen up to 200%, the Enterprise makes it easy to see any design flaws before you stitch.
NeedleCam™Digital Camera
Thanks to the NeedleCam digital camera, your needle area can be clearly shown on the LCD screen. With this view, you can see exactly where the needle will drop. Also the Enterprise recognizes the embroidery positioning stickers and positions the embroidery automatically so you can place every design with extreme precision.
On-Screen Editing
With the Enterprise's editing features, you can combine, reposition, resize, rotate and mirror your designs and watch as the changes happen instantly on the LCD screen. Alter designs individually, or group design elements together to quickly move or edit the design.
14" x 14" Embroidery Hoop
The optional 14" x 14" (360mm x 360mm) jumbo hoop is perfect for large projects like jacket backs and quilt blocks. The jumbo hoop is activated through the Palette 9 embroidery software.
Linking Capabilities
Combined with the Enterprise, Palette 9 becomes the command center for your embroidery project and provides the ability to link up to 4 Baby Lock Multi-needle machines together. Linked machines can embroider the same or different designs
.
Convenient Bobbin System
Semi-Industrial Features

10 needles - 1 position for each needle
Maximum embroidery speed -1,000 stitches per minute
Maximum embroidery fill stitching speed -1,000 stitches per minute
Embroiders up to 7 7/8" x 14" (200mm x 360mm) embroidery field or optional 14" x 14" (360mm x 360mm) frame using Palette 9 Software
LCD Maximum reading capacity:


500,000 stitches, or
500 color changes, or 2MB

Technology Features

TruView™ HD LCD Color Touch Screen


Shows 260,000 colors
Measures 8.5" diagonally

NeedleCam™ Digital Camera for perfect embroidery positioning
Touch Screen shows:


Design placement using drag and drop capabilities
Estimated embroidery time display and stitch count
Needle advancement (1, 10,100 or 1000 stitch increments)
Measurements displayed in inches or metrics
200% Design magnification on screen
Color separation
Thread color indicator
On-screen hoop size indicator shows standard and optional hoops
Thread warning indicator
300 color names
Screen saver customization
Customizable mouse pointer

Software/Connectivity

3 USB drives; 2 (Type A) drives, version 2.0 connects with flash drives and CD-Rom drives and version 1.1 connects with mouse, and hub, and 1 (Type B) USB direct connect to a PC
Linking capabilities allow up to 4 machines to connect to Palette 9 software through a powered hub
Optional External USB 1GB Flash Drive
Reads multiple formats (PES, PEC, DST, PHC)
Upgradeable through USB connection

Convenience Features

5 LED lights with dimming settings to illuminate work area
LED spool stand lighting aids in thread placement and lights for thread spool warning
Built-in memory (1.7MB)
Bobbin system: front loading, vertical rotary hook
Push button, automatic needle threaders
Upper thread breakage sensors
Manual tension controls
Automatic thread trimmer (upper and lower)
Needle bar/frame move key extends the hoop for easy access to the design while still attached to the machine
Start/Stop button with lock feature
On-screen speed control
Uses pre-wound bobbins
Choose units of measure (inches or millimeters)
Built-in stylus holder

Support Features

Built-in operation guide with videos
Built-in help messages
Auto save feature - automatically saves last design when power is turned off or a power failure occurs
Shipping weight (130 lbs. or 59 kg.)
Machine weight (92 lbs. or 42 kg.)
Warranty (25 years product casting, 5 years circuit boards, 5 years electrical, 2 year parts, 1 year labor)
Ask your Baby Lock Retailer about training and service programs like the optional Gold Standard

Customizing Features

Built-in embroidery designs


110 Designs
30 Fonts including large floral alphabet, Baby Lock exclusive script and Greek letters
3 Monogram fonts designs with frames
120 Frame combinations

Combine embroidery designs on screen
Character/text array function
Character spacing
1°, 10°, and 90° Pattern rotation
Design size change (10% reduction and 20% enlargement) on most designs
Needle forward and reverse position placement (1, 10, 100 or 1000 stitch increments)
Design duplication (up to 20 times in both directions)
Design Grouping combine designs or letting to move as a group
Automatic appliqué
Automatic basting
Mirror imaging
Change color selections within designs
Manual color sequence allows:


All 10 colors can be anchored
Color can be selected by needle number rather than by color
Anchored colors can be changed in the middle of stitching

Assign colors to DST format
Embroidery speed can be set for individual anchored spools for specialty and metallic threads
Continuous border capabilities and color sorting on border designs
Monochrome option for embroidery designs
Short stitch delete
Instant needle edge placement with 9 starting and 9 ending positions
Thread color display in 6 options
Custom color displays in 3 options:
Original Palette, Custom Palette 1, Custom Palette 2
4 Included embroidery hoops:


7-7/8" x 14" (200mm x 360mm)
5-1/8" x 7-1/8" (130mm x 180mm)
4" x 4" (100mm x 100mm)
1-1/2" x 2-3/8" (40mm x 60mm)

Hoop sensor advises hoop size for design chosen
Hoop display shows hoop options on-screen based on frame holder chosen
On-screen count and running time system
Specifications 
DATA INPUT TYPES
FONTS FOR MONOGRAMMING
FRAME PATTERNS
MAXIMUM EMBROIDERY SIZE/AREA
BUILT-IN DESIGNS
TOTAL NUMBER OF USB PORTS
EMBROIDERY SPEED
NUMBER OF USB TYPE A PORTS
NUMBER OF HOOPS INCLUDED
NUMBER OF USB TYPE B PORTS
BUILT-IN FONTS
NUMBER OF NEEDLES
More from this collection