Magna Glide Prewound Magnetic Size L Embroidery Bobbins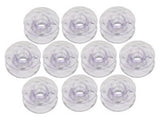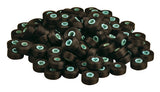 Description
Magna Glide White Prewound Bobbins 
Pre-wound Bobbins - 100 pack / White
For Use With: PR-600 PR-600II PR-620 PR-650 PR650e
PR-620 PR-650 PR650e PR1000 PR1000e Babylock EMP BMP ENT10
BNT10
These
magnetic core embroidery bobbins are the only bobbin specifically
designed to sew without tension variation throughout the entire
bobbin. The magnetic core, combined with advanced EB "cross-link"
technology optimizes dynamic thread delivery to create consistent
tension from beginning to end of each bobbin.
Uniform Tension Control - The
patented magnetic core creates consistent delivery throughout the
entire bobbin. No more interruptions for tension adjustments as
your bobbin gets smaller. Magnetic core prevents backlash or over
spin and eliminates the need for check springs. Remove
anti-backlash (check springs) from bobbin case prior to using the
Fil-Tec magnetic embroidery bobbin.
Fewer Bobbin Changes - The magnetic
core bobbin offers significantly more stitches per bobbin reducing
defects and increasing productivity.
Clean Running - Advanced EB
cross-link technology reduces lint and residual build-up in the
bobbin case and tension spring. The result is a more trouble-free
bobbin.
High Quality Yarn
- Fil-Tec uses only the finest quality, high tenacity
polyester yarns to make it patented magnetic core embroidery
bobbin.
Patented magnetic core
creates unmatched tension uniformity.
Bobbin will sew to the
very end without tension variation.
High tenacity 60wt
polyester yarns.
Patented magnetic core
embroidery bobbin.
Lower cost per yard based
on usable yards per bobbin.
Bobbins come with 135yds
per bobbin.
If you have a backlash
tension spring in your bobbin case remove it and insert the Fil-tec
bobbin in it. See the difference.
More from this collection