Brother Entrepreneur W PR680W 6‑Needle Embroidery Machine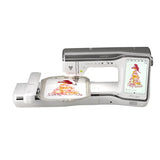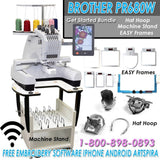 Description
Brother Entrepreneur W PR680W 6‑Needle Embroidery Machine

Are you ready to take your embroidery passion to the next level? The innovative PR680W 6-Needle Embroidery machine is prepared to take you there. With six-needle speed, WLAN connectivity and precision cross-hair accuracy, the PR680W can handle a wide range of projects and fabrics with a generous 8" x 12" embroidery area. See your designs on the large 10.1" built-in high-definition LCD display with large icons and a scrolling menu. Create something new or add an upcycling touch with 100 built-in embroidery designs, 18 monogramming font styles, 140 frame pattern combinations, 50 lettering fonts, and 10 buttonhole styles in 3 sizes
Main Features
6-Needle Versatility

 

Each needle offers customizable settings for speed, color lock, and now the disengagement of the needle threader – useful when using a thin needle! At the same time, Thread Tension Range Expansion creates a wide range of tension settings, making it easier to embroider on difficult fabrics with correct tension without distorting or puckering the fabric.
Crosshair Embroidery Droplight Laser

 

Get precision accuracy positioning and light up your fabric to see where the needle will drop for all your projects with the Crosshair Embroidery Droplight Laser. Accurate to +/- 0.5 mm from needle drop with materials up to 1 MM thick. The new laser crosshair has a longer horizontal axis, which makes it extremely accurate for placement – even if you hoop your items crooked.
Connect Wirelessly

 

When connected to your wireless network, send designs from your PC to the PR680W with Design Database Transfer and get alerts when it's time to change thread or when your project is complete with the My Stitch Monitor App. You can also link up to 10 machines wirelessly and get machine updates automatically when using with PE-Design 11 (additional purchase required).
Six-Needle Speed

 

Increase your productivity and efficiency with industrial-leading high-speed acceleration! Reach up to 1,000 stitches per minute in seven seconds. Projects will be completed faster and with minimal noise.
Color Grouping, Color Management, and Color Sort

 

The PR680W has Color Grouping, which allows multiple regions to be selected at a time for editing color; intuitive Color Management for easy design customization; and Color Sort, which helps to cut down on thread changes when combining designs.
Short Cut Key and Lock Mode Feature

 

The PR680W can support a busy embroidery business with a short cut key that allows the user to jump directly to the embroidery screen from multiple screens to save time. The new Security Lock Modes allow a business owner to customize access to machine functions to different roles – helping to secure important business designs and keep the machine operator focused on critical tasks.
LED Lighting and Spacious Work Area

 

The PR680W has a generous 8" x 12" embroidery area for just about any sized project. With bright, customizable lighting, you can illuminate your work with 4 built-in LED lights to see colors clearly with virtually no shadows! Customize the light brightness between 5 settings, including 'off' mode to find your ideal level.
Color LCD Touchscreen Display

 

The large 10.1" built-in high-definition LCD display, with large icons and scrolling menu, makes on-screen editing and letter input a snap. Large defined icons, thumbnail size selector, color navigation, scrolling menu, swipe capability, and the ability to view your design properties in 'Preview' mode. On-screen editing and letter input is a snap.
Expandable Library of Built-in Tutorials

 

The PR680W HD tutorials make learning easy! View 24 tutorial videos directly on the high-definition LCD display–with everything from basic operations to embroidery functions.
Built-in Designs

 

Create new projects or add a nice upcycling touch with 100 built-in embroidery designs, 18 monogramming font styles, 140 frame pattern combinations, 50 lettering fonts, 50 built-in utility stitch designs, and 10 buttonhole styles in 3 sizes.
Artspira Mobile App - where art and inspiration meet!

 

The Artspira Mobile App will have you creating on the go. With access to embroidery and cutting designs and the ability to make embroidery patterns by drawing on your mobile device, there's no limit to your next project.


More from this collection
Brother
click add to cart see price
$12,999.99
You save $3,000.00
Brother
click add to cart see price
$12,999.00
You save $4,000.00
Brother
click add to cart see price
$9,999.99
You save $2,000.00
Brother
click add to cart see price
$7,999.99
You save $1,000.00