Brother Stellaire Innov-is XJ2 Sewing and Embroidery Machine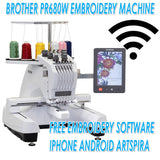 Description
CONTINUING THE LEGACY OF EXCEPTIONAL COMBO MACHINES
The Stellaire 2 series from Brother, featuring the Innov-ís XJ2 sewing, embroidery and quilting machine, and the Innov-ís XE2 embroidery machine, continue their exceptional reputation as go-to machines for hobbyists, makers, and budding entrepreneurs for a wide variety of home and business-based projects. With an impressive combination of cutting-edge technology, luxury features, and inspiring designs, the Stellaire 2 series of machines will elevate your sewing, embroidery, and quilting skills.
Main Features
ARTSPIRA MOBILE APP
Let your imagination guide you! With the Artspira app, you can draw your designs to upload to your machine or browse the app to find new projects and tutorials.
CUTTING EDGE MOBILE APPS
The My Stitch Monitor app lets you know when to change your thread and even when your design is finished. With the My Design Snap app, you can capture pictures to convert into embroidery designs, and also use for precise design placement.
BUILT-IN DISNEY DESIGNS
With 101 built-in Disney embroidery designs, there will be no shortage of magic to go around.
2-POINT EMBROIDERY POSITIONING FUNCTION WITH LED POINTER
This built-in tool gives precise positioning to show where the needle will drop for all your projects.
MY DESIGN CENTER
Check out the 30 basic shapes, 30 closed shapes, 30 open shapes, and 17-line types that can be used by themselves or combined to create one-of-a-kind embroidery projects.
BUILT-IN SEWING STITCHES
When you are ready to add some personality to your next project, scroll through the selection of 760 sewing stitches, which includes 20 tapering, 3 Sashiko, and 130 compatible stitches with the Dual Feed Foot.
SEW STRAIGHT LASER GUIDE
Use the bright laser line with light or dark fabrics to quilt, piece, sew, or align rows of decorative stitches in smooth straight lines.
3-D EFFECT AND MATRIX COPY
Embroider letters with yarn for a unique 3-D effect using the Couching Embroidery Foot. With the Matrix Copy feature, you can add multiple copies of the same design to your project to create one-of-a-kind patterns.
EXTENSIVE LIBRARY OF DESIGNS
Access a range of built-in designs. With 9 large size and 3 light sketch flower patterns, as well as 10 quilt patterns, 26 patterns of Alphabet letters, 12 designs for buttonholes, and an In-the-Hoop pattern for a pin cushion disguised as a hedgehog, there is no telling what is possible.
EASY ECHO AND DECO-FILL
With this stippling feature on the Embroidery Edit Tab, you can add decorative textures to virtually any project you can think of.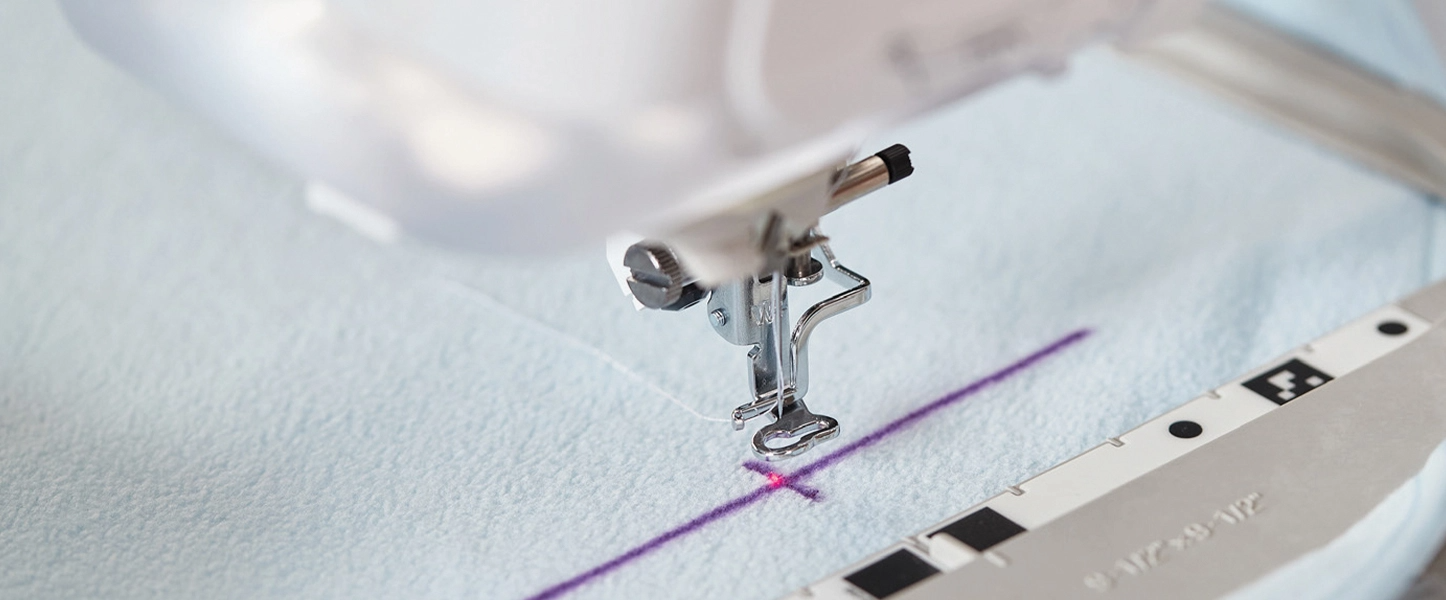 2-POINT POSITIONING FEATURE
The Stellaire Innov-ís XJ2 has a 2-Point Embroidery Positioning Function with a LED Pointer, which gives you precision accuracy positioning and will light up your fabric to see where the needle will drop for all your projects.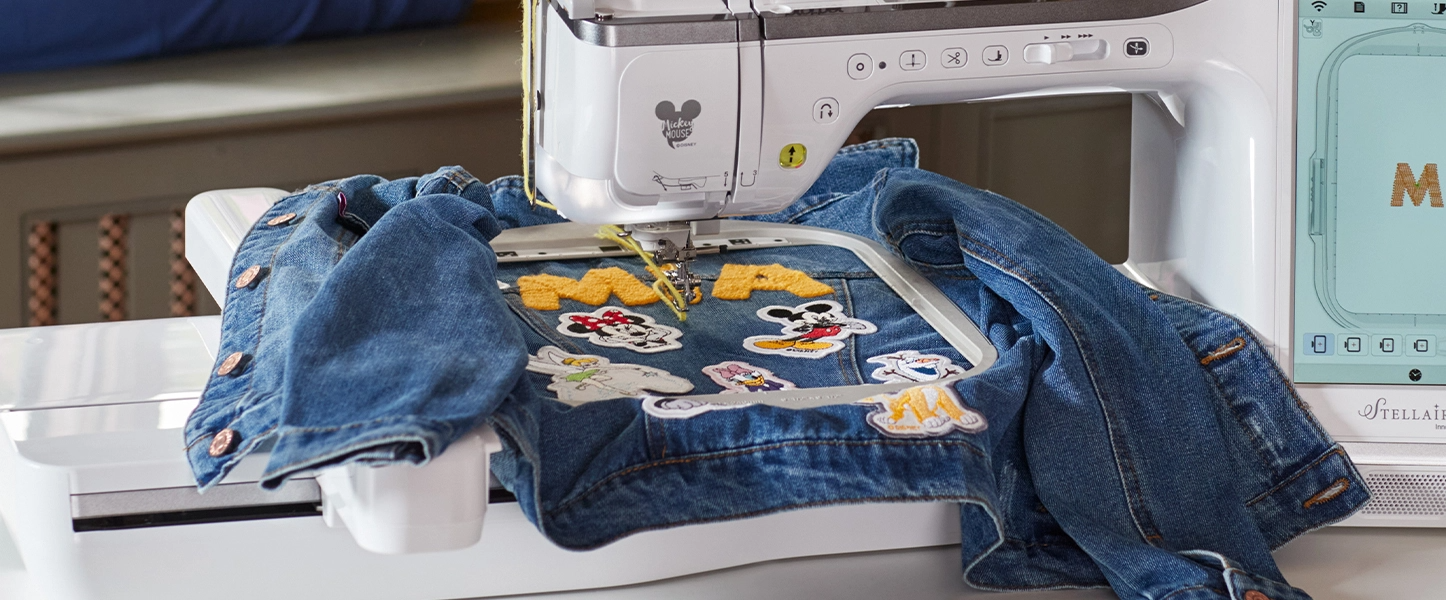 COUCHING EMBROIDERY FOOT
With 56 square inches of workspace and a spacious 11.25 inches from arm to needle, you'll have no problem fitting even some of your largest projects.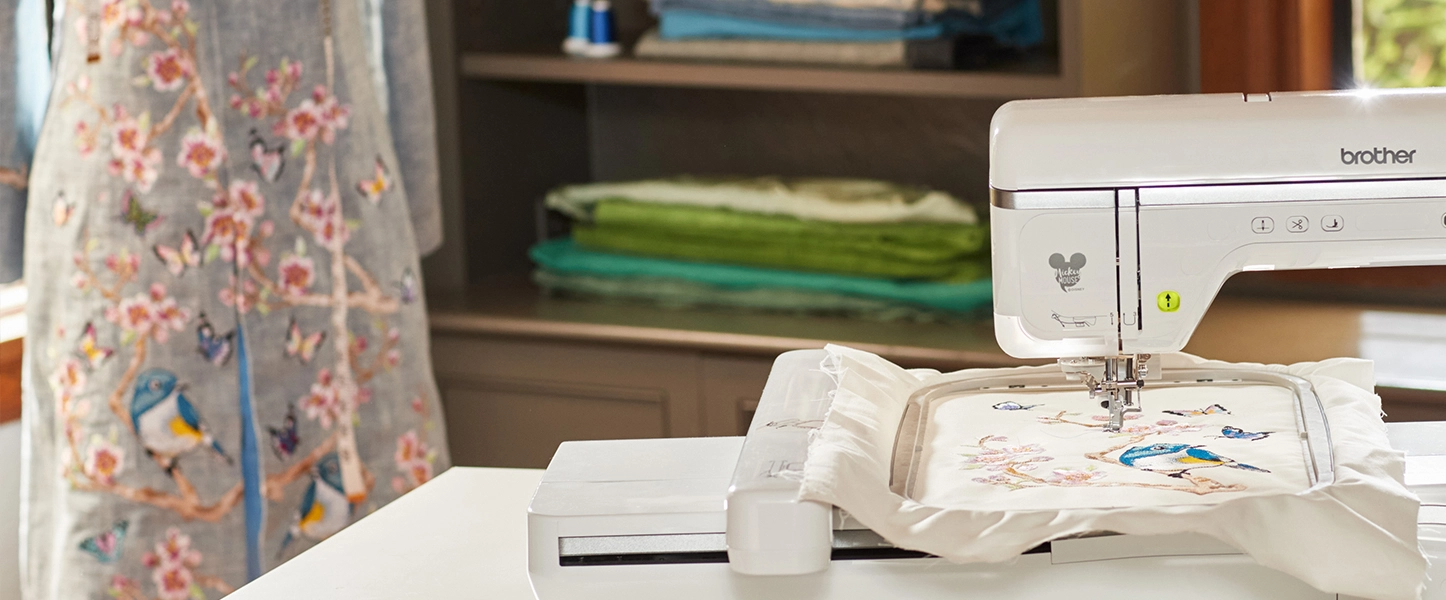 BUILT-IN DESIGNS
With a host of 788 built-in embroidery designs, modern technology, plus the integration of Artspira, the Stellaire2 Innov-ís XE2 embroidery machine will be your go-to embroidery machine for all your projects.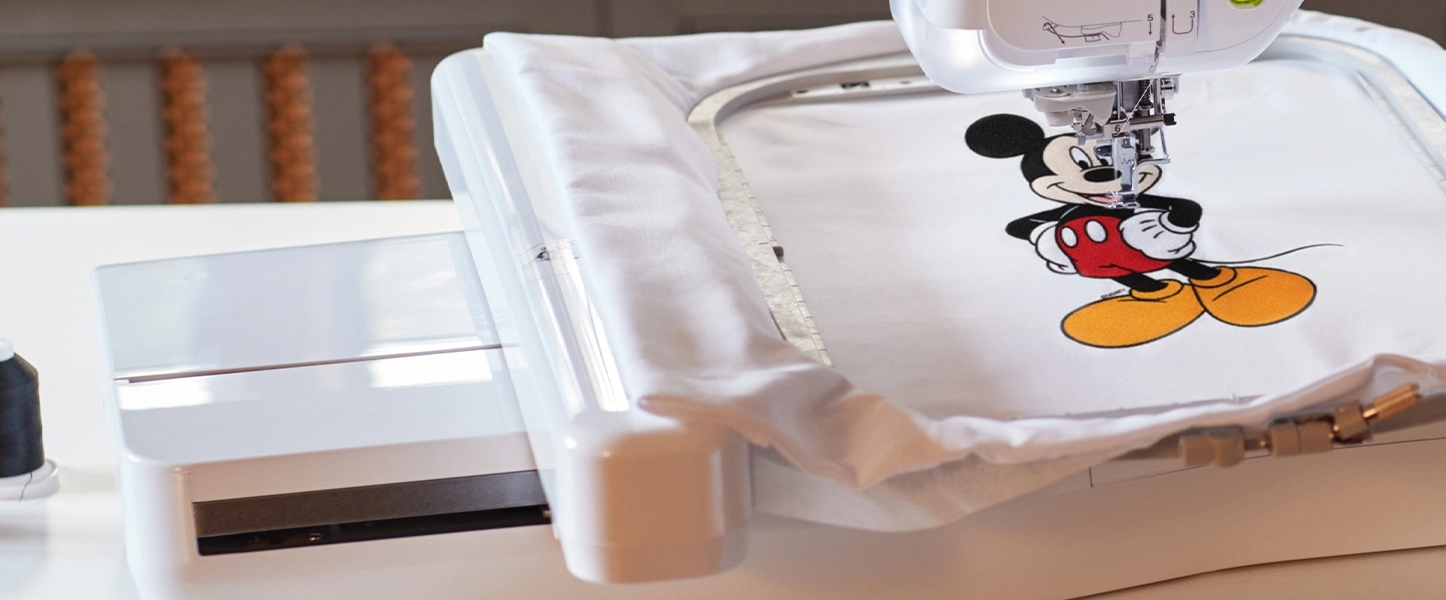 BUILT-IN DISNEY DESIGNS
The Stellaire2 has the magic of 101 Disney embroidery designs built right in, featuring Mickey Mouse, Minnie Mouse, Goofy and Pluto. Plus, your favorite characters from Frozen, Finding Nemo and Cars! Brother customers get exclusive access to even more Disney and Disney Pixar embroidery designs through the iBroidery.com Download Center.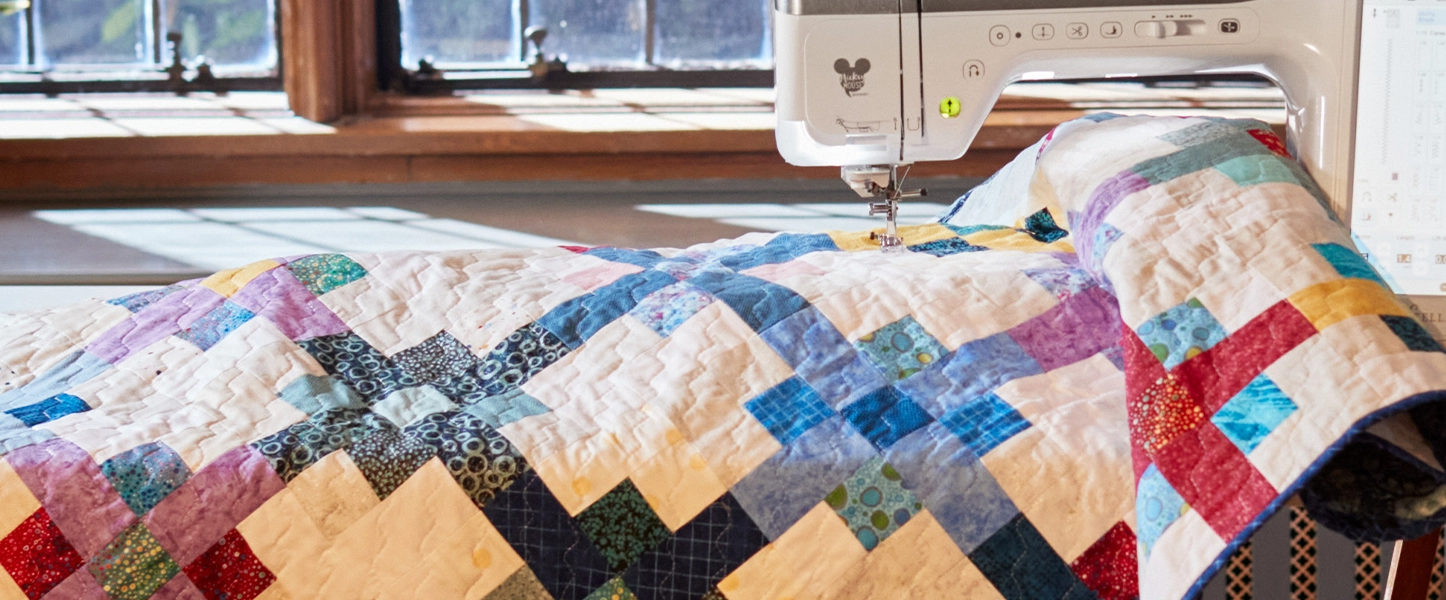 GENEROUS WORKSPACE
The Stellaire2 XJ2 has room to create with 56 square inches of workspace and has a healthy 11.25" from the needle to arm. The large embroidery area of 9.5" x 14" can handle just about anything your imagination throws at it.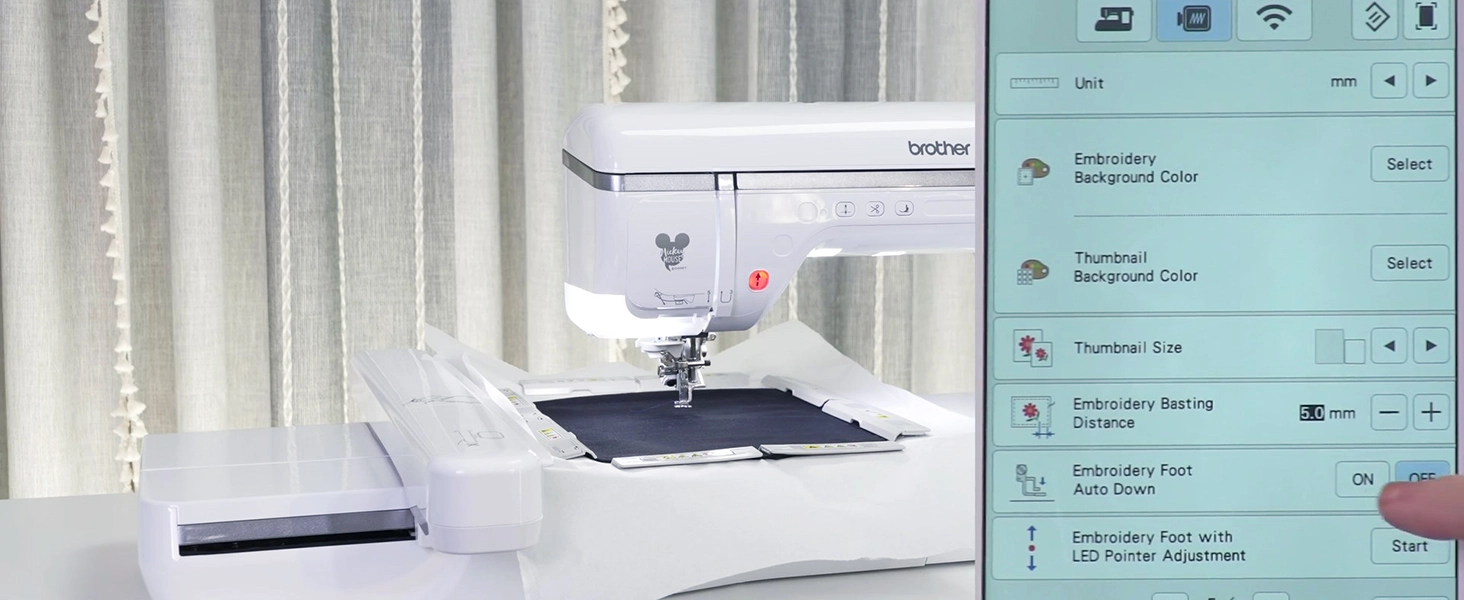 PRESSET FOOT AUTO DOWN
The Presser Foot Auto Down feature will automatically lower the presser foot when the start button is pressed in embroidery. It eliminates the need to manually lower the presser foot before starting the embroidery and makes less work when creating a stitchout.
Design capabilities at your fingertips
With My Design Snap Mobile App, you can turn just about anything into embroidery — in 3 easy steps: Snap a picture, Brother Stellaire Innov-ís XJ2 turns it into an embroidery file, and embroider away!
Creating a custom, personal work of art has never been easier. Use the My Design Snap mobile app to turn line art, handwriting, or an illustration into embroidery data. Simply snap a pic of the image using the My Design Snap app on your mobile device. The image is sent to your machine through your wireless network, and then converted into embroidery data. Combine the different decorative fills in your image to create beautiful, one-of-a-kind embroidery designs.
PRECISE DESIGN PLACEMENT IS A SNAP
My Design Snap mobile app works with Snowman Embroidery Positioning Marker and your mobile device to place your design exactly where you want it every time. Just snap a picture of your project, preview it on your mobile device, and start embroidering with automatically positioned design.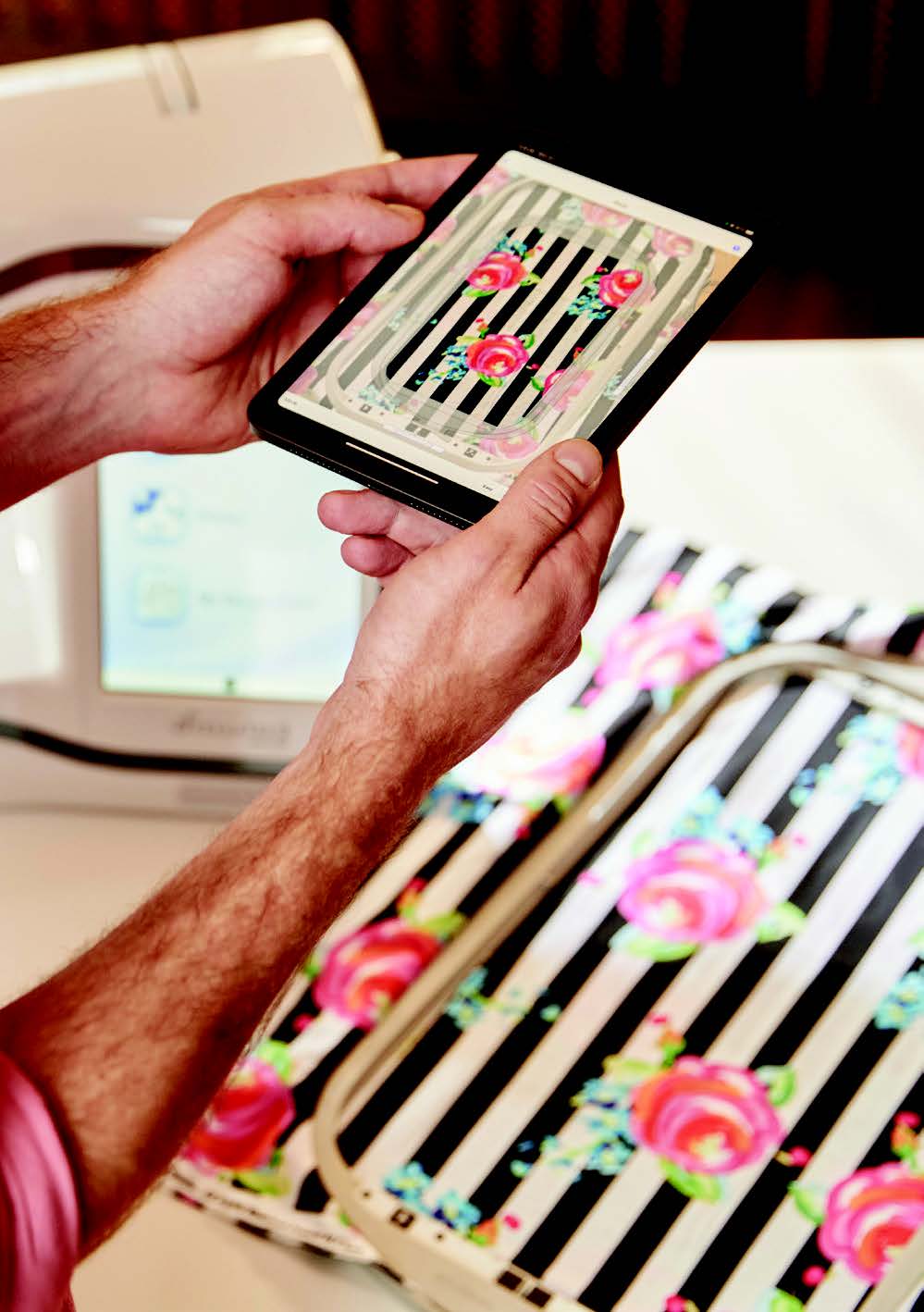 SNAP OF YOUR BACKGROUND FOR PLACEMENT OR DESIGN
Hoop your fabric and use the My Design Snap app on your mobile device to snap a picture of the hooped area and send it to your machine wirelessly. Once the picture is on your Stellaire, select, position, colorize embroidery designs to come up with the perfect combination, or use the background image to trace out your own embroidery design. Fill in selected areas to enhance piece. Transform the ordinary into a stunning creation.
Features and Specifications
BASIC FEATURES
LCD Display Size (Diagonal) Inches: 10.1" (5.3 x 8.5)
Display (Number of Colors): Up to 16,777,216
Weight: 37.39 lbs
Weight With Embroidery Unit Attached: 45.61 lbs.
Dimension: 26.06" L x 12.64" W x 13.70" H
Dimension with Embroidery Unit Attached: 36.06" L x 20.63" W x 13.70" H
Stitch Select: Clear Touch Panel
On-Screen Help: Yes
Built-in Languages: Yes
On-Screen Editing: Yes
Lighting LED 10": Lighting
Thread Tension: Automatic
Needle Threading System: Automatic
Easy Bobbin Winding: Yes
Adjustable Bobbin Winding Speed: Yes
Thread Sensor: Upper and Bobbin
Automatic Thread Cutter: Yes
Quick-Set Bobbin: Yes
Full USB: 2
Computer Connectivity with Update Capability: Yes
Mouse Capability by USB: Optional
Media Type: USB
SEWING & QUILTING FEATURES
Bed Area (Depth x Width) Inches: 8.2 x 17.1
Workspace (Height x Width) Inches: 5 x 11.25
Maximum Sewing Speed (Stitches Per Minute): 1,050
Knee Lifter: Yes
Feed Dog: 7 (Longer Version)
Back to Beginning Key: Yes
Standard Presser Feet: Yes
Built-in Sewing Stitches (Includes Buttonhole Styles): 760
Buttonhole Styles: 15 One-Step + 1 Four-Step
Built-in Sewing Lettering Fonts: 4 (3 Alphabet + 1 Cyrillic)
Stitch Width: 7mm
Stitch Length: 5mm
Reinforcement Stitch: Yes
Sew Straight Laser Vision Guide: Yes
MuVit Digital Dual Feed: Yes
My Custom Stitch Feature: Yes
Side Feeding: Yes
Start/Stop Button: Yes
Twin Needle Setting Key: Yes
Needle Position Key (Up/Down): Yes
Automatic Height Adjuster (AHA) Feature: Yes
Presser Foot Pressure Adjustment and Leveling: Yes
Pivot Function: Yes
Drop Feed/Free-Motion: Yes
Included Free-Motion Quilting Feet: 3
Built-in Quilting Stitches: Yes
Wide Table: Optional
EMBROIDERY FEATURES
Maximum Embroidery Area (X x Y): 9.5" x 14"
Maximum Embroidery Speed (Stitches Per Minute): 1,050
Standard Included Frames: 4 (9.5" x 14", 9.5" x 9.5", 5" x 7", 4" x 4")
Built-in Brother Embroidery Designs: 788
Built-in Embroidery Designs Featuring Disney/Disney andPixar Characters: 101
Built-in Frame Designs: 10 Shapes x 14 Stitch Patterns
Built-in Embroidery Lettering Fonts: 26
Thread Wiper: Yes
Resume Function: Yes
Trial Position/Layout Function: Yes
Built-in Border Function and Designs: Yes
Color Sort Feature: Yes
Sewing with Embroidery Unit Attached: Yes
Appliqué Creator Function: Create Multiple Appliqué in One Hoop
Automatic Feed Thread Cutting: Yes
Curving Text on Screen Editing: Yes
On-Screen Letter Editing: Yes
Multiple Pattern Selection: Yes
Space Reduction Among Embroidery Alphabets: Yes
Pattern Rotating: 0.1, 1, 10, or 90 Degrees
Drag and Drop Editing: Yes
On-Screen Automatic Density Adjustment: Yes
My Design Center Feature: Yes
No-Fuss Stippling at Embroidery Edit: Yes
Basting Stitch Before Embroidery: Yes
Forward Backward Stitch: 1, 10, 100, 1000, Progress Bar
Droplight Embroidery Positioning Marker: Yes
My Design Snap Mobile Application: Yes
2-Point Embroidery Positioning Function with LED Pointer: Yes
Included Accessories
Embroidery Foot "W+" with LED Pointer
Embroidery Couching Foot "Y"
Yarn Guide for Embroidery Couching
Yarn Threader
Zigzag Foot "J"
Advanced Monogramming Foot "N+"
Overcasting Foot "G"
Zipper Foot "I"
Blind Stitch Foot "R"
Button Fitting Foot "M"
Buttonhole Foot "A"
Compact Dual Feed (Digital Dual Feed) Foot
Regular Dual Feed Foot (on Compact Dual Feed Foot)
Straight Stitch Foot
Free Motion Quilting Foot "C"
Free Motion Echo Quilting Foot "E"
Free Motion Open Toe Quilting Foot "O"
1/4" Quilting Foot (Piecing Foot)
Straight Stitch Needle Plate
Embroidery Frame Set, 4" x 4"
Embroidery Frame Set, 5" x 7"
Embroidery Frame Set, 9.5" x 9.5"
Embroidery Frame Set, 9.5" x 14"
Embroidery Positioning Sticker Sheets (4)
Embroidery Needle Plate Cover
Knee Lifter
Grid Sheet Set
Stabilizer
Touch Pen (Stylus)
Accessory Case
Operation Manual
Quick Reference Guide
Additional Accessories Included in the Box
ARTSPIRA CONTENTS
Artspira Magazine: Included
Monthly Projects: Included
Photo Frames (template): 9
Banners (template): 16
Quilt Wall Décor: 5
Fabric Labels: 13
Bag Projects: 6
Printing Patterns: 37
ARTSPIRA EDITING FEATURES
Design Editor: Move/Rotate
Design Editor: Change Size
Design Editor: Combining Multiple Designs
Design Editor: Change Color
Fonts: 10
My Creations (Cloud Storage): 20 Saves
AR Functionality: Included
More from this collection