Embrilliance Essentials, Alpha Tricks, & Embrilliance Thumbnailer Triple Set!!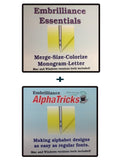 Description
This Set includes 3 of the Embrilliance Softwares: Embrilliance Essentials, Embrilliance AlphaTricks, and Embrilliance Thumbnailer.

About Embrilliance Essentials:

Every embroiderer needs to do some basic things. Those things should be easy and fun, not an hour long trip to the dealer for a class. And it shouldn't cost an arm and a leg, either. And just because your computer is a Mac with OSX or a PC with Windows 8-64 doesn't mean you should be left out! Embroidery software should be easy, fun and useful for everybody.
A couple years ago, someone told us what they like to use in their software. And then we heard the same thing from someone else. And it occurred to us that there are some things which are, "Essential to every embroiderer." Yet many software programs have everything and the kitchen sink too, and they charge you for it. So we put just those things in one simple, inexpensive program, and called it, "Essentials."
What are these "Essentials?"
Using your Mac or Windows PC you can:
Merge embroidery designs in almost any format, even while they are in .ZIPs.

Resize, with stitch recalculation.

Colorize.

Convert Thread Brands on your designs.

Add lettering in Multi-Line, Monogram and Circle modes. You can even spiral text or make really LARGE letters.

Save in your machine's format.

Split designs for some of the common Multi-Position hoops.

Give Project Advice for many different embroidery tasks.

Save working files so that you can edit text later.

Print real-size templates, with options to support scanning /cutting systems.

Overlap designs and have significant understitching removed.

Run a simulator to show how your designs will sew out.

Group/ Ungroup

Change or remove individual colors in a design.

Have many chances to Undo your work.

Fit to Hoop with stitch recalculation.

Align and Distribute.

Add basting stitches to designs.

There are special, self-modifying designs that can be used, and some come with the program. These designs calculate their stitches as you play with them for super results!

Manage your threads, including marking ones you own.

Create Designer 1 floppy disks and USB sticks

Intel Mac OSX 10.5 (Leopard) and later, including 10.8 Mountain Lion

Windows XP 32-bit, Windows Vista 32/64, Windows 7&8 32/64

Embrilliance is the only brand in the World that offers embroidery software running native on Mac and Windows 32 and Windows 64 (so it's faster)!
***** IF SOFTWARE IS OPENED YOU CANNOT RETURN IT : IT CANNOT BE RESOLD *******************

About Embrilliance AlphaTricks:


AlphaTricks is a feature pack for Embrilliance Essentials that adds the ability to use alphabet designs almost as if they were built-in fonts.
If you are like most of us, you've purchased and downloaded more than a few alphabet designs. They are gorgeous to look at once embroidered, but a pain to layout properly. If a letter is to be repeated, say as in "Bobby" then the copy and paste can leave you feeling drained. Worse, if you do it in the wrong sequence, then your machine winds up jumping here, there and everywhere.
And even if you do get all the letters in, and in the proper order, then there's the issue of aligning them so they look right. And what if you need to nudge the size down a hair? Aaargh! Now you start all over again by going through a sizing program.
Can't one simple thing make this problem easy? Yes! AlphaTricks solves all those issues and makes using your alphabet designs fun!
How do you start? First add your purchased AlphaTricks serial number to the Embrilliance program Serial Numbers window, found under the Help menu.
Next, you'll have to restart the Embrilliance program so that it can find the new AlphaTricks features. Note that you'll need to be running version 1.106 or later.
Now to add a font!
If your digitizer issues our Embrilliance .BX files, then adding a font is as easy as drag-and-drop. Simply drop the .BX file onto the main program view. And if your font digitizer doesn't have BX files for their fonts, simply ask to them get them made. It's free to them, and it makes life so much easier for you, their customer.
Note: AlphaTricks does not come with fonts — it enables you to use the alphabet designs you've purchased elsewhere.
The next way to add a font is to make one yourself by mapping individual designs to keyboard keys.
If a picture is worth a thousand words, what's a video or two worth?
By now you are probably familiar with the lettering tool in Essentials. Wouldn't it be great if all those things could be done with the alphabet designs? Well, they can, almost:
Multi-Line text!
Note that the letters are automatically kerned for you. (Kerning is the spacing between each letter.)
How about Monograms? Yes, as part of Essentials:
Sizing — with stitch recalculation, as part of Essentials!!!
Italics:
Text on a circle/Spiral:
So you get the idea. AlphaTricks is a letter-lovers dream addition to Essentials. And you can run it by itself with some limitations in sizing etc. Once you do, we just know you'll want the rest of the Essentials, which is why we describe it as a feature pack for Essentials.


***** IF SOFTWARE IS OPENED YOU CANNOT RETURN IT : IT CANNOT BE RESOLD *******************


About Embrilliance Thumbnailer:


Embrilliance Thumbnailer Embroidey Software for Win/Mac
The Embrilliance Thumbnailer provides an easy way for you to view embroidery designs on your Mac and PC.
Mac users may know this technology as a Quick Look Plugin.
If you've been downloading or buying embroidery designs, you need the Thumbnailer.
It's this simple; You can now view designs in your Explorer (PC), Finder or Cover Flow (Mac).
You can also view designs in the Finder Preview:
Designs in the Finder are drawn with a realistic 3D view:
And you control the design formats you want to see using a preference pane:
This program is a World's First!
It contains the World's First Mac and PC Identical embroidery product, released at the same time!

It is the World's First embroidery product that has a 64-bit Windows version.

It is the World's First embroidery product that supports Mac OSX, Windows XP(32bit SP2), Windows Vista/7/8 (32&64 bit)

Thumbnailer is a universal binary and works on both Intel and PPC Macs using OSX 10.5 and above (Leopard, SnowLeopard).
Now for those of you who also have Windows-based machines, or run with Parallels so that you can get to your other embroidery software, we also include the Windows version of the Embrilliance Thumbnailer too!


***** IF SOFTWARE IS OPENED YOU CANNOT RETURN IT : IT CANNOT BE RESOLD *******************
More from this collection