Dime Snap Embroidery Hoop 5"X7"-Ellisimo, Ellegante,Duetta,Quattro, XV8500 Dream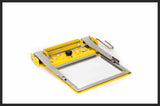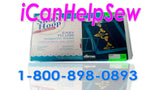 Description
Call Us With Any Questions 1-800-898-0893!!
Dime Snap Embroidery Hoop 5" X 7"
Snap Hoop
The next generation of embroidery hoops
---
Let's be honest. You would probably love machine embroidering more if hooping wasn't so difficult. Traditional hoops feature an inner hoop and outer hoop that can be tricky for even the nimblest of hands.
There is an easier way to hoop that won't leave you feeling hopeless. It's Snap Hoop! The secret is in the patented design of Snap Hoop. There's no cumbersome inner hoop that traditional hoops require.
Snap Hoop comes with a flat magnetic top and flat metal bottom frame. Simply lay the fabric over the bottom frame and snap the top frame in place! Voila! The fabric is secured.
---
What's all the fuss about Snap Hoop?
Watch video demo!
---
Designed for Ease
Minute adjustments can be made by tugging on the fabric without distorting the fibers. Try that on a traditional hoop and you are guaranteed to end up with puckering on your embroidery.
Snap Hoop handles knits, wovens and even quilt sandwiches.
Snap Hoop makes hooping pain-free, hassle free and gives you the freedom to embroider with confidence. At last, machine embroidery is a creative, fun and effortless hobby!
Designed to Expand Your Creativity
Multiple hoopings are a breeze. Just lift the magnetic top frame, slide the fabric and snap the frame back in place. Imagine stitching sheets, skirt hems, drapes and more with flawless continuous embroidery! Plus, because of Snap Hoop's patented design, you are not confined to just the edge of fabric. You can create allover embroidery with flawless results!
Designed to Fit Your Needs
Snap Hoops are available in the most common hoop sizes you already use. Snap Hoops are recognized by the embroidery machine - no chance of stitching on the frame!
Designed to Make Economy Machines More Robust
Snap Hoop revs up your embroidery machines to the next level. Snap Hoop transforms a standard sewing field to one with no borders. You will love the flexibility of sliding the fabric, snapping the frame back in place and continuing embroidering. You will soon discover how a limited stitch area can be expanded to create continuous embroidery on your machines!
---
Snap Hoop Includes:
One metal base frame with machine attachment

One magnetic top frame

Four adhesive centering rulers

Step-by-step instructions

Target Stickers™
Everyone can overcome the challenges and intimidation of hooping! Success is guaranteed! You will rediscover the joy of machine embroidery as you tackle projects with confidence!
For Use With:
BabyLock-Destiny BLDY, ALL Versions of Ellisimo, Ellageo BLL, Ellageo PLUS BLL2, Esante BLN, ALL Versions of Ellegante, Journey, Spirit, Unity, Ellure BLR, Ellure PLUS BLR2, Ellure BLR3, & Elmore BLMR

Brother- Dream Maker XE, Dream Weaver, Dream Weaver XE, ALL Versions of Duetta, Innov-is 1000,1200, 1250D, Innov-is 1500D, 2500D, 2800D, Innov-is 4000, 4000D, 5000, PE-700, 700II, 780D, ALL Versions of the Quattro, XV8500/8550D Dream 8200, 8500, ULT 2001, 2002, & 2003.