Embrilliance Stitch Artist LEVEL 2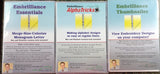 Description
Level 2
Level 2 includes Level 1 and is designed for production and skills training for those who would like to create more sophisticated designs, as well as a more complete set of tools. It will allow the user to learn a wide cross-section of stitch types and properties, and have enough freedom to create virtually any design.
How do you use StitchArtist?
Most users will begin by importing a background image – some artwork that they want to embroider. Then you create 'objects,' which are shapes that will be stitched, over the artwork. You decide the shapes, their order and their stitch properties. Those who are familiar with any modern drawing tool will feel comfortable with StitchArtist as it uses a Bezier model of shaping.
When assigning stitches to shapes, you have freedom to change your mind at any time; any shape can be made into any type of stitch as easily as clicking a button.
Easy to work with
Editing outlines is a frequent task when creating designs. StitchArtist is very helpful in this task:
Stitch generation is instant and automatic.
There are no mode changes for selection, editing, coloring, moving, sizing, rotating or adjusting properties.
You can work in any number of display options. No need for a specific one to be used during any process.
Users unfamiliar with Bezier can use a simulated spline system which is easier to teach, and can be helpful in the early instruction process.
If you have missed it, we do have an FAQ on StitchArtist:
http://embrilliance.com/phpBB3/viewtopic.php?f=29&t=1082&p=3445#p3445
There are a large number of stitch types available:
Methods / Properties:
To give you a sample of the comprehensive nature of the properties you can use with stitch objects, here are some examples, all Level 1 unless noted:
Run Stitch Styles:
Single
Double
Bean (up to 9 passes)
Chain
Backstitch (up to 5 passes)
Stemstitch (adjustable width, angle)
Sashiko
Satin stitch properties:
Length, Edge Pad, Reverse pattern
Will hold on without topstitching
Two styles: constant density, fixed line count
Number of splits (1-5), Max stitch length, Reverse stitch control
Inside and Outside, Left and Right independent control
Minimum, Percent, Maximum
Four styles with density adjust
Edge Run, Parallel, Zig-zag. With control of length, inset and density.
Freestanding (Level 2+) for Richlieu bars, etc.
Satin Border
Pattern
Split
Feather
Applique
Line styles
Applique:
E-Stitch, Blanket stitch, Satin
Full control over use of Position and Material
Simulated Fabric fill
Photo fill, with cropped printing for mixed media
Color styles including PES traditional, User-defined and Keep Color for multi-needle machines.
Cut-file saving for Silhouette, Scan 'n Cut, SVG
Stipple
Four styles with adjustable spacing and stitch length
Can be converted to a Run, and then a Motif Run for virtually unlimited possibilities.
Motif Run / Fill
Combine motifs in a sequence for your own pattern
Full control over each motif size, rotation, mirror
Satin motifs included
Candlewick motifs included
Scale on line (level 2) for a dramatic decorative effect
Freestanding background
Can be used to make lace designs
Can be used under other objects for freestanding support
Single-run style for creating even grids for a quilted look on linings, etc.
Cross Stitch
Open and closed paths supported
Fixed grid so adjacent objects can align
Contour (level 2)
Three styles: Echo outline inward, Echo interior clipped, Echo outline outward
Offset and gradient control
Also Included:
Over 200 outlines added to the library which can be used in your design.
Over 150 Motifs for run and fill
Over 50 Emboss patterns
Over 15 Fill Patterns
Read the manual
There is a PDF and online help of the manual for the Embrilliance Platform, which includes a lengthy StitchArtist volume. You can find the links at:
http://embrilliance.com/downloads
I want it
Are you ready to become a StitchArtist? Visit our store!
Sample Images
Level 1 shown
Level 2 shown:
More from this collection