Brother, Babylock Open Toe Walking Foot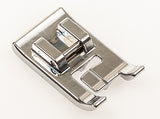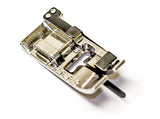 Description
Brother Open Toe Walking Foot
"WIDOWS: 2; TEXT-TRANSFORM: none; BACKGROUND-COLOR: rgb(255,255,255); FONT-VARIANT: normal; FONT-STYLE: normal; TEXT-INDENT: 0px; FONT-FAMILY: Verdana, Arial, Georgia, sans-serif; WHITE-SPACE: normal; ORPHANS: 2; LETTER-SPACING: normal; COLOR: rgb(0,0,0); FONT-SIZE: 11px; FONT-WEIGHT: normal; WORD-SPACING: 0px; -webkit-text-size-adjust: auto; -webkit-text-stroke-width: 0px"
id="ctl00_ContentPlaceHolder1_Description" class="NoColor__70">
Genuine Brother® Accessory. Walking foot provides secure fabric
feeding with open toe for use with both utility and decorative
stitches. Foot has movable feed dogs to enhance fabric feeding from
upper fabric surface. Horizontal opening for wide range of left to
right needle positions and added sole pressure. Use Quilting Guide
for Foot Holder's Quilting Foot Guide (inserted on left or right
side of foot) for accurate stitch placement.
"WIDOWS: 2; TEXT-TRANSFORM: none; BACKGROUND-COLOR: rgb(255,255,255); FONT-VARIANT: normal; FONT-STYLE: normal; TEXT-INDENT: 0px; FONT-FAMILY: Verdana, Arial, Georgia, sans-serif; WHITE-SPACE: normal; ORPHANS: 2; LETTER-SPACING: normal; COLOR: rgb(0,0,0); FONT-SIZE: 11px; FONT-WEIGHT: normal; WORD-SPACING: 0px; -webkit-text-size-adjust: auto; -webkit-text-stroke-width: 0px"
id="ctl00_ContentPlaceHolder1_ForUseWith" class="NoColor__70">For
Use With: PC-8500D, ULT-2003D, PC-6500, SE-270D, NX-200, NX-400,
NX-400Q, NX-600, CS-80, CS-8060, CS-8150, ES-2000, CS-6000T,
CS-100T, CS-8072, Innov-ís 2500D, Innov-ís 1000, Innov-ís 1500D,
Innov-ís 4000D, Innov-ís 500D, PC-2800, PC-3000, PC-6000,
PC-8200, PS-2200, PS-2300, PS-2500, ULT-2001, ULT-2002D, Innov-ís
4000DLTD, PC-8500, NX-450, NX-250, NX-450Q, NX-650Q, Innov-ís
1200, QC-1000, PC-210, PC-420, CS-6000i, HE-120, CE-4000, EX-660,
BC-1000, Duetta® 4500D, PC-210PRW, PC-420PRW, Innov-ís 900D,
SE-350, HE-240, CE-5000PRW, HS-2000, Quattro® 6000D, LB6770 PRW,
Innov-ís 2800D, Innov-ís 1250D, SE-400, LB-6800PRW, CE-5500PRW,
Innov-ís 950D, CP-7500, CP-6500, Laura Ashley Innov-is NX800,
CE8080PRW, CS5055PRW, Quattro® 2 6700D, Isodore™ Innov-ís
5000
More from this collection