Fast Frames 8x8" Standalone Bag Quilt Embroidery Hoop Brother PR 6 & 10 Needle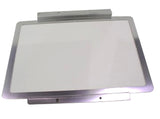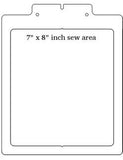 Description
Fast Frames 8x8" Standalone Bag Quilt Embroidery Hoop Brother PR 6 & 10 Needle
Compatible with Brother PR600,PR600C, PR600II, PR620, PR650, PR1000 and BabyLock EMP6, BMP8, BMP9, Enterprise series commercial embroidery machines.
Fast Frames Bag & Quilt Hoop for
Brother 6 & 10 Needle Embroidery Machines
Sewing Field: 8"x8" (actual inner dimensions: approx. 8.75x9.25")
Standalone Hoop - Attaches like your regular embroidery hoops.
Relief from carpel tunnel.
Excellent repeat-ability, great for multi-head operations.
More from this collection