Fast Frames Brother Babylock PR620 650 655 *ALL 6 NEEDLES* Embroidery Hoop 7-N-1+ BONUS 10'X9" STUCK Adhesive Stabilizer FREE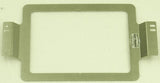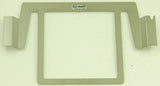 Description
Fast Frames Brother PR 600 PR 620 Embroidery Hoops
We ship same day!
BONUS 10'X9" worth of Stabilizer (Adhesive) Best used for these frames!
Compatible with Brother PR600,PR600C, PR600II, PR620, PR650, and BabyLock EMP6, BMP8, BMP9 series commerical embroidery machines.
FREE SHIPPING IN LOWER US! We will ship internationally, call us for shipping quotes!
Questions...Call us at 800-898-0893
Fast Frames Embroidery Frame Set
Stainless and Aluminum hoops and frames from Fast Frames allow hooping in 5 seconds, provide relief from carpel tunnel and are great for multi-head operations.

note:the hoops are silver (Staninless steel). The gold hue in the picture is a reflection from the flash
THIS SET COMES WITH:
THE ARM FOR YOUR MACHINE TYPE
2 X 4 MONO HOOP
2.5 X 4 POCKET HOOP
3 X 4 POCKET HOOP
5 X 4 CHRISTMAS STOCKING HOOP
6" RADIUS HAT HOOP FOR SIDES AND BACKS OF HATS
7" X 5" ATTACHE CASE HOOP
7"X 7 " Deep Bag HOOP
Fits Brother PR 600 and 600II 600C, 650 and Baby Lock EMP/BMP models!!
Returned machines must be in New condition with no damage.
The buyer is responsible for the return shipping costs.
The free shipping will be deducted from refund.
More from this collection