Grace Q'nique 21 Quilting Machine With Continuum Frame
Vendor:
The Grace Company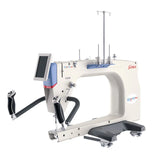 Description
Now you can have the longarm quilter you've always wanted!
Get superior stitch regulation, 21" of throat space, and all the latest technology with never before seen features, all in a complete package. Every aspect of the Grace Company's Q'nique 21, from the features down to the price, has been designed with the quilting enthusiast in mind.
The Q'nique 21 combines quality in precision stitching and user-friendly features together with a value that can't be beat. The Q'nique 21 off ers a level of quality in precision stitching, user-friendly features, and designed engineering never available before in such an affordable package.
Q'nique 21 Features:
21 inch throat space
Built-in stitch regulation
Adjustable handles/Micro handles
Positionable hopping foot
Full-color OLED screen
LED needle lights
Built-in automatic bobbin winder
OPTIONS: Frame 10 foot
Only Compatible with the Continuum Quilting Frame
Due to the large throat length, the Q'nique 21 Series are only compatible with the Continuum 1 or 2 model frames.
The new Continuum Quilting Frame has been designed by the Grace Company to perfectly accommodate the Q'nique quilting machines. With steel and cast-alloy components, the frame is one of the sturdiest and longest-lasting frames ever designed. This modular frame has many available configurations and accessories. This is a no-baste frame designed to make your quilting projects easier, more convenient, and more beautiful.
Continuum Frame Features:
SureTrack dual-wheel system
Channel locks for easy straight lines
Adjustable working depth fo any size machine up to 21 inches
Leveling feet
Height adjustable legs
More from this collection