Handi Quilter HQ Long Arm Quilter Sixteen Stitch regulated Quilting Machine and HQ Studio Frame Package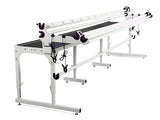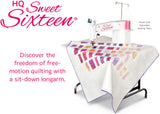 Description
Package includes: HQ Sixteen Quilting Machine with Stitch Regulator, Front and Rear Handles, Laser Stylus, External Bobbin Winder and HQ Studio Frame for HQ Sixteen, 11 foot HQ Marked Leaders
* Optional accessories available

Heavy duty, portable frame constructed out of metal designed specifically for the HQ Sixteen Quilting Machine. Sold as a package with the HQ Sixteen Quilting Machine.

Features
HQ Studio Frame: The Largest and Most Robust of All HQ Table and Frame Systems
• 12 foot free-standing frame
• Robust design limits vibration
• Patented larger-diameter pole roller system
• High-quality steel provides solid base for quilting
Special Features: Designed To Make Quilting Easier
• Self-leveling feet adjust to floor surfaces
• Adjustable legs for easy height adjustment
• Patented pole adjustment with snap-pin inserts
• Built-in hand wheel for ease in rolling
• Rollers with built-in bearings
• Comes with HQ Sixteen Continuous Track 12'
• Stitch regulation provides you consistent stitch quality from 4 stitches per inch up to 15 stitches per inch.
• Full 16" of throat depth provides 13" of quilting space with 8" of vertical space.
• High-speed rotary hook with large capacity "M" class bobbin.
• Hopping foot prevents fabric movement during a full-stitch cycle.
• Integrated laser light – used for following patterns from the front and back of the machine.
More Features and options than other Quilting Machines
• Tilt Screen Action handle with built-in LED cluster lights
 Removable and replaceable LED lights
 Control your lights with easy on/off application
 Select specific lights for special application
• Simple and easy to use electronic menu
 Move from Stitch Regulation to Manual mode with a click of a button
 Set up your preferred settings, including stitches per inch and speed control
 Walking stitch feature for basting and locking stitches
 Full- and half-stitch settings
 Life time and trip counters
 Built-in self-diagnostics
• Self-lubricating bearings, requires no internal oiling
More from this collection