HoopTech Compact Cap Back Clamp for Cap Drivers For Brother PR 600 620 650 655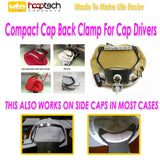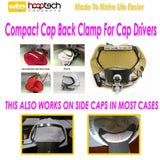 Description
HoopTech Compact Cap Back Clamp for Cap Drivers For Brother PR 600 620 650 655
Also fits BabyLock 6 Needle Machines.
This will also do Hat / Cap Sides (look at picture)
This version is not for the Wide cap frame. There is another model for it.
Compact Cap Back Clamp for cap drivers
The Hoop Tech Products - Compact Clamp for Cap Backs is the easiest and fastest way to frame up a cap back. The extra large sewing field with locating points for centering, makes it easy to sew low across the cutout or high on the cap crown for those large design requests.
The easy to use patent pending single lever cam locking lever quickly clamps the cap and backing in place and you're ready to sew.
Features Include:
(2) Backing holding clips to secure packing while framing up the cap.

Mounts to machine using existing cap driver.

Single lever opens, closes and locks the clamp.

All stainless steel metal construction for many years of service.
All stainless steel metal construction for many years of service.

Fully adjustable clamp adjusts to different fabric thickness.

Clamping action does not leave "hoop burns"

Use your existing framing gage or the Hoop Tech Framing Gage with the patented T-bar stretcher.
Even "Flex Fit" made easy
The Compact Clamp for Cap Backs makes short work of the challenging Flex Fit caps. The elastic fabric and sweat band are easily clamped and adjusted for a smith, tight hold. Making embroidery on the back of caps quick and easy.
OTHER BRANDS THIS CAN BE ORDERED FOR:
TAJIMA - MELCO - TOYOTA - BROTHER - PR-600 - BABYLOCK - PRODIGI - SWF - GENERATIONS - ZSK - HIGHLAND - INBRO - MEISTERGRAM - HIGHLAND
Compact Cap Back Clamp
Driver Mounted Clamping System
More from this collection