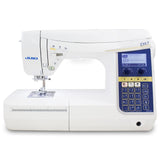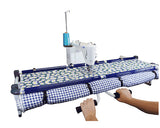 Description
CURVE FOOT
The Curve Foot creates beautiful inner curves. The distance between the knife and the needle is 9.95mm, the industry's smallest knife to needle distance.
MAGNET NEEDLE TRAY
Useful to temporarily place a needle when changing.
EASY ROLL HEMMING
Thread tension that is suitable for roll hemming can be accomplished by lifting the roll hemming thread tension lever. Simply raisethe selection lever for overlock or roll hemming and set the cutting width adjusting dial to 2.5 to 3.5 which allows the sewing machine to perform roll hemming.
KNEE LIFTING LEVER
The presser foot can be lifted to 6mm at the maximum to ensure easy placement and remove the material.
*Maximum height of the presser foot by hand is 8mm.
Adjustable presser foot pressure
Option to deactivate upper knife
Quiet operation
2-/3- thread conversion
Adjustable differential feed
68mm (2.66") throat height
Safety feature preventing operation when the presser foot is in upper position or cover is open
Thread trimming blade for easy thread cutting
Foot controller
Knee lifting lever
Waste collector
Multi-purpose foot
Soft cover
More from this collection