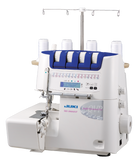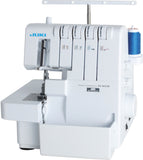 Description
Juki MO-3000QVP 2/3/4 Serger
Experience all the fantastic things you can create with Juki's Akane MO-3000QVP Serger. The Akane is steeped in Juki's rich heritage and offers you top-of-the-line features like their new automatic thread supply, chain-off thread cutter, micro-lifter, and effortless air threading. Also, new features allow you to operate the serger by hand or foot, like a knee lift lever and foot controller with foot switch functions. Also packed into this machine is a wide throat area, a bright workspace with color temperature adjustment, a magnetic needle tray, an LCD screen, and 2/3 thread conversion. With all the features packed into the MO-3000QVP, you can create professionally finished-looking edges on garments, blankets, home decor projects, and more. Stitching up to 1500 stitches per minute, the Akane can handle most fabrics with ease. While perfect for professional sewists, this serger is also great for hobby sewists looking to upgrade their old machine with all the latest and greatest bells and whistles.
2-/3- THREAD CONVERSION
Switching to 2- to 3- thread sewing is simpler than ever on the MO-3000QVP; all you have to do is push the 2-/3- thread changeover attachment to the left. This feature is convenient for carrying out 2-needle overlocking, cover stitch (flatlock), or 2-thread hemming.
ADJUSTABLE LED LIGHTS
The workspace is brightly illuminated with LED lights mounted at two locations. The long-life and energy-efficient LED lights will not heat up when used for a long period. In addition to brightness, you can adjust the light bulb's color temperature between daylight (white) and soft white (yellow toned). This feature helps eliminate visibility difficulties with certain fabric and thread color combinations.
KNEE LIFTER
Take control of your fabric with the help of the included knee lifter on the MO-3000QVP. This hands-free option allows you to move the presser foot up or down without using your hands. This attachment is easy to install and comes in handy when pivoting fabric. The presser foot can be lifted to 6mm at the maximum to ensure easy placement and material removal (the maximum height of the presser foot with hand lifter is 8mm).
CURVE FOOT
On the Akane, the distance between the knife and the needle is 9.95 mm, which is the industry's smallest level of the knife-to-needle distance. With the included curve foot, you can easily serge curved pieces of material smoothly and produce beautifully finished seams.
MICRO LIFTER (FLOAT FUNCTION)
One of Juki's new features is the micro-lifter. This function is normally only found on industrial machines and never on a serger. The Float Function will prevent uneven sewing on quilts and velvet, as well as stretched stitches on knit fabrics. The presser foot "floats" up to 2.5mm above the material, making it useful for sewing over thick seams. Elastic materials and delicate materials can be sewn beautifully with this function.
AUTOMATIC NEEDLE THREADER
The automatic needle threader easily threads both your right and left needle without eyestrain and allows you to start sewing quickly. No need to squint or search; this machine does it for you. Pass the thread through the thread guide, pull the threader down, then return the lever to its original position, and your needle is ready to go.
More from this collection