Juki MO-80CB 2/3/4 Overlock Serger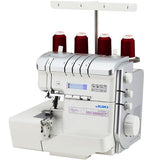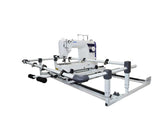 Description
Juki MO-80CB 2/3/4 Overlock Serger
Want a high quality finish? Want the convenience of an easy-to-use machine? One machine meets those needs: the MO-80CB!
The MO-80CB is a 2-needle, 2/3/4 thread overlock with automatic rolled hem and differential feed. Additionally, the MO-80CB comes with free arm capabilities to attach sleeves, hem pants, and more!
Embellish your creations with a variety of stitch patterns including 4-, 3-, and 2-thread overlock; 3-thread rolled hem, 3-thread narrow overlock, frill 3-thread rolled hem with differential feed, and 3-thread flatlock.
Built to JUKI's industrial standards, the MO-80CB features various functions such as differential feed, cutting width, presser foot pressure, and adjustable stitch lengths for professional results. Discover how easy and simple projects become with convenient features like a retractable upper knife, 2-thread converter, and easy to follow thread guides.
Features

Free Arm: Removing the auxiliary bed enables free-arm sewing. This is convenient for sewing cylindrical pieces, attaching sleeves, hemming pants, and more.

Cutting Width: Adjusting the position of the knife allows you to beautifully finish both overlock and rolled hemstitching.

Differential Feed: Adjusting the differential feed allows you to sew beautiful finishes including stretchy fabrics such as knits and georgette. Adjustments can be made even while sewing

Foot Pressure: The presser foot pressure can be adjusted according to the fabric. Adjusting the pressure to lightweight, medium weight, and heavyweight fabrics allow you to sew beautifully

Adjustable Stitch Length: An accessible knob can be used to adjust the stitch length from 1 to 5mm even when sewing.

Lower Looper Threader: Threading the lower looper can easily be done by operating a lever.

Lay-in Type Thread Tension Slots: Raise the presser foot and pass the thread straight through the slot threads tension disc. Even thick threads are easy to thread!

Retractable Upper Knife: Since the upper knife can be raised by turning a knob, threading can be safely performed. Avoid cutting fabric by turning the knob that raises the upper knife.




2-Thread Converter: The included 2-thread converter attachment easily converts the machine to 2-thread sewing.

Bright LED Lighting: The workspace is brightly illuminated. The long-life, energy-efficient lights will not heat up, even after a long period of use.

Automatic Rolled Hemming: Pull the lever towards you to switch the machine to rolled hemming.

Thread Guide for Heavy Decorative Threads: The thread guide for heavy decorative threads allows you to enjoy decorating your projects with thick decorative thread as the looper thread.
Specifications
Number of Threads: 2/3/4 Threads
Needles: EL×705 Size #14/90,#12/90
Standard Overlock Width: Right Needle/3mm-5mm, Left Needle/3mm-7mm, Rolled Hem/MIN 2mm
Stitch Length: 1-5mm(Standard:2.5mm)
Differential Feed: 0.6-N(1)-2.0
Presser Foot Lift: 4.5mm
Sewing Speed MAX: 1,300spm
Weight: 14 lbs.
Dimensions: 12"(w) × 11"(d) × 12"(h)
More from this collection