Juki HZL-DX5 Quilting and Sewing Machine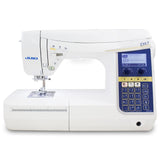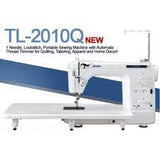 Description
Looking for a reliable and dependable machine? Achieve perfection stitch by stitch with the HZL-DX5! This computerized household machine incorporates JUKI's industrial sewing machine technology to produce superior sewing performance and stitch quality.
Working with heavy or thin fabrics? This machine is equipped with functions to handle all types of fabrics! The box feed system feeds those hard to feed fabrics with ease by staying in contact with the fabric longer providing consistent stitches.
Also, the HZL-DX5 is equipped with a straight stitch slide plate that prevents the fabric from being fed to the needle hole.

Enjoy the satisfaction of creating using high-quality finishes including overlock stitches and lace patterns. Other sought-out features include presser foot pivot function, thread trimming, needle up/down, straight stitch lever, and an automatic needle thread that allows you to get the most out of your sewing experience. Discover superior sewing with the HZL-DX5 at your local JUKI Dealer!

Features
Presser Foot Pivot Function: Sew corners or pivot with ease, when you stop sewing, the needle stops in the down position and presser foot automatically lifts to allow for fabric movements.
Free Motion: Enjoy both straight stitch and zig zag by just flipping the switch and dropping your feed dogs. Adjust the presser foot height for easy movement.
Straight Stitch Slide Plate: Simply slide the front lever to switch to a single needle hole. The single needle plate will not allow fabrics to be pushed into the needle hole. Ready to free motion stitch with precision and perfection!
Automatic Thread Trimming: With the push of a button or the click of a heel, you can now automatically trim thread.
Buttonhole Sensor System: With Juki's combination of industrial and modern technology, this system automatically measures and evenly sew on both the right and left sides to create beautiful buttonholes.
Adjustable Starting and Reverse Stitch Speed: Adjust the stitch speed by selecting fast, normal, or slow
Lock Stitch: Choose between two kinds of "Reverse Stitch" and "Lock Stitch" at the start and end of sewing. If you press the "Lock Stitch" button in the middle of the sewing pattern, the machine stops sewing one cycle of the pattern.
Specifications

Control system

 

Computer
Number of stitch patterns

 

185
Number of available fonts

 

3
Buttonhole

 

Automatic (sensor system) with clamping plate
Direct stitch pattern selection

 

10 patterns
Start/stop button

Green

:

 

Ready to start and/or while sewing

Red

:

 

Not ready to start

Orange

:

 

When the lock stitch button is pressed while the sewing machine is engaged in pattern sewing

Maximum stitch speed

 

1,050 sti/min
Thread tension system

 

Automatic
Presser foot pressure adjustment

 

Stepless adjustment
Bobbin thread winder

 

Bobbin winder with independent motor
Light

 

1 LED light
Change in the length/width of stitches

 

Button system
Number of needle position (straight stitch/other than straight stitch)

 

37 / 3
Memory function

 

10 patterns
Height of lifting of presser foot (1 step/2 steps)

Button system:

 

6 mm
Lever system:

 

6 mm / 12 mm

Wide table

 

Optional
Foot controller

 

Included; with foot switch function
Auto thread trimming
Automatic needle threader
Automatic lock stitch and thread trimming
BOX feed mechanism
Drop feed
Quick bobbin preparation
Straight stitch slide plate
Float function
Free arm
Pattern (right and left) reverse
Twin needle sewing
Adjustable starting / reverse stitch speed
Lock stitch
Low-speed inching sewing
Presser foot pivot function
Presser foot horizontality holder button
Hard case with accessory storage part
Knee lifting lever
More from this collection