Brother, Babylock 7 mm Picot Foot. See catalog for machines; including the NV6000D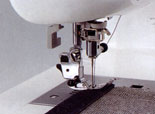 Description
7 mm Picot Foot. See catalog for machines; including the
NV6000D
"WIDOWS: 2; TEXT-TRANSFORM: none; BACKGROUND-COLOR: rgb(255,255,255); FONT-VARIANT: normal; FONT-STYLE: normal; TEXT-INDENT: 0px; LETTER-SPACING: normal; FONT-FAMILY: Verdana, Arial, Georgia, sans-serif; WHITE-SPACE: normal; ORPHANS: 2; COLOR: rgb(0,0,0); FONT-SIZE: 11px; FONT-WEIGHT: normal; WORD-SPACING: 0px; -webkit-text-size-adjust: auto; -webkit-text-stroke-width: 0px"
id="ctl00_ContentPlaceHolder1_Description" class="NoColor__70">
Genuine Brother® Accessory. Decorative narrow hemmer foot for
picot hem finishes. Picot foot looks similar to narrow hemmer foot
but is designed to create a shell look edge on lightweight fabric.
Grooved soleplate for picot stitch formation. Cone shaped feet
channel for edge finishing.
"WIDOWS: 2; TEXT-TRANSFORM: none; BACKGROUND-COLOR: rgb(255,255,255); FONT-VARIANT: normal; FONT-STYLE: normal; TEXT-INDENT: 0px; LETTER-SPACING: normal; FONT-FAMILY: Verdana, Arial, Georgia, sans-serif; WHITE-SPACE: normal; ORPHANS: 2; COLOR: rgb(0,0,0); FONT-SIZE: 11px; FONT-WEIGHT: normal; WORD-SPACING: 0px; -webkit-text-size-adjust: auto; -webkit-text-stroke-width: 0px"
id="ctl00_ContentPlaceHolder1_ForUseWith" class="NoColor__70">For
Use With: PC-8500D, ULT-2003D, PC-6500, SE-270D, NX-200, NX-400,
NX-400Q, NX-600, ES-2000, CS-6000T, CS-100T, CS-6000, CS-8072,
Innov-ís 2500D, Innov-ís 1000, Innov-ís 1500D, Innov-ís 4000D,
PC-2800, PC-3000, PC-6000, PC-7000, PC-7500, PC-8200, PS-2200,
PS-2300, PS-2500, ULT-2001, ULT-2002D, NX-450, NX-250, NX-650Q,
Innov-ís 1200, QC-1000, PC-210, PC-420, CS-6000i, CS-6000B,
HE-120, CE-4000, EX-660, BC-1000, Duetta® 4500D, Innov-ís 40,
Innov-ís 80, PC-210PRW, PC-420PRW, Innov-ís 900D, SE-350, HE-240,
LB-6770, CE-5000PRW, HS-2000, Quattro® 6000D, LB6770 PRW,
Innov-ís 2800D, Innov-ís 1250D, SE-400, LB-6800PRW, CE-5500PRW,
Innov-ís 950D, CP-7500, CP-6500, Laura Ashley Innov-is NX800,
CE8080PRW, CS5055PRW, Quattro® 2 6700D, Isodore™ Innov-ís
5000
More from this collection