Brother, Babylock 7 mm Ruffler Foot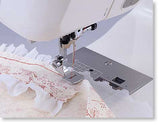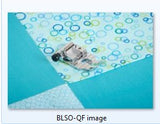 Description
Brother Ruffler Foot
"PADDING-LEFT: 10px; WIDTH: 740px; CLEAR: both; PADDING-TOP: 10px"
id="divAccessContent">

Create ruffles and pleats in varying depths and fullness, evenly
spaced tucks, and gathers for home dec pillows and curtains. You
can also create great trims with purchased ribbons. Single hole
needle plate makes this foot perfect for ruffling lightweight
fabrics as well.

For Use With: PC-8500D, ULT-2003D, NX-200, NX-400, NX-400Q, NX-600,
CS-8072, Innov-ís 2500D, Innov-ís 1500D, Innov-ís 4000D,
PC-2800, PC-3000, PC-6000, PC-8200, ULT-2001, ULT-2002D, PC-8500,
NX-450, NX-250, Pacesetter® PS-3700, NX-650Q, Innov-ís 1200,
QC-1000, PC-210, PC-420, Duetta® 4500D, Innov-ís 40, Innov-ís
80, PC-210PRW, PC-420PRW, Quattro® 6000D, Innov-ís 2800D,
Innov-ís 1250D, Quattro® 2 6700D, Isodore™ Innov-ís 5000
More from this collection