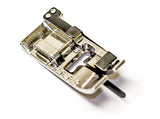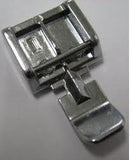 Description
Janome Taping Foot
The Taping Foot helps to feed seam tape binding when sewing
garments in knit or stretch fabric. Use it on shoulder seams and
armholes to prevent stretching. The foot can also be used to attach
bias tape. The measuring hatch marks help make an accurate binding
width, from 5mm to 20mm.


Use with: 1600P, 1600P-DB, 1600P-DBX, 1600P-QC, Brother
PQ-1500S, Juki TL 98 Series and TL 2000 Series
More from this collection