SureStitch Stitch Regulator
Vendor:
The Grace Company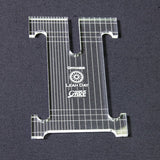 Description
The Grace SureStitch is both a stitch regulator and constant stitch speed control. In Stitch Regulation mode, it takes advantage of your machine's full range of speeds. As you speed up and slow down, so will your machine, keeping all of your stitches the same length. When used as a speed control, the SureStitch lets you adjust the speed of your sewing machine with the push of a simple button.
The SureStitch comes with constant contact sensor design for superior stitch accuracy and is cross compatible with multiple machines and quilting frames. The digital speed display, tie-off button, on/off switch, and stitch speed button +/- give you precise control at your fingertips.
Stitch Regulation for beautifully consistent stitches.
The Grace SureStitch Stitch regulator is the easiest way to control your stitching when using a quilting machine on a frame. It matches the sewing machines speed to your movements to keep your stitches at a consistent length.
Product Features
Dual function stitch regulator and speed control
Easy controls at your finger tips: on/off, pulse, stitch length
Dual color LED display
More from this collection