THE CONTINUUM II MACHINE QUILTING FRAME (8', 10', 12')
Vendor:
The Grace Company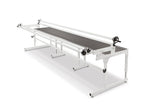 Description
For over 30 years, The Grace Company has produced some of the finest machine quilting frames available. The Continuum II Frame is the improved evolution of our popular Continuum Frame. It features a fine-tuned, sleeker internal structure that's smaller, simpler, and stronger than its predecessor. The bar height adjustments are also much simpler and more precise.
With steel and cast–alloy components, the Continuum II Frame is one of the sturdiest and longest–lasting frames ever made. It is a modular frame with many available configurations and accessories. It is also a no–baste frame, designed with the highest quality to make your quilting projects easier, more convenient, and more beautiful. The frame is available in standard, 8 foot, 10 foot, and 12 foot sizes.
*Machine Not Included*
The Continuum II Frame can be configured in multiple set–ups and optional accessories, so it will be the perfect fit for you no matter what your quilting requires. Think you might upgrade your machine to a longarm in the future? The Continuum II frame can work with your short or midarm machine now, and then be adjusted for a longarm when you need it. Add the optional accessories now or later to make your quilting process more convenient.
NO–BASTE QUILTING RAIL SYSTEM
The Continuum II Quilting Frame saves you valuable time by eliminating the ordeal of basting. All the quilt layers are attached to their own rails, and then come together and on to the take–up rail as you quilt. Grace frames use locking ratchet ends on the rails to give you precise control over the tension of your fabric layers.
New Racheting System
The ratcheting system has been fully integrated into the Continuum II, and has quick-toggle locks for immediate adjustments as needed.
SURETRACK
 

DUAL–WHEEL SYSTEM
This smooth gliding track system enhances stitch quality, accuracy, and carriage motion.
CHANNEL LOCKS
Conveniently lock your machine motion into either back and forth, or side to side motion. Perfect for straight lines.
LEVELING FEET
No matter what floor your frame is on, these feet are an easy way to make sure it's level and balanced.
ADJUSTABLE DEPTH
Adjust the depth of your work area to match your quilting frame. Get closer when working on short–arm quilting machine, or expand your space for larger patterns with a long–arm.
HEIGHT–ADJUSTABLE LEGS
Height–adjustable legs let you work at the level that is most comfortable to you.
HAND–WHEEL
Conveniently roll all the layers of your quilt with the take–up rail hand–wheel. This advances the fabric to the next section of your project for quilting.
More from this collection