Juki TL-2000Qi Mid-Arm Quilting and Piecing Machine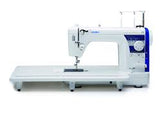 Description
TL-2000Qi
Mid-Arm Quilting and Piecing Machine
Looking for a high-quality sewing and quilting machine? The JUKI TL-2000Qi was made for you! The TL-2000Qi is a portable, lightweight machine constructed of aluminum die-casting to ensure industrial-quality sewing. With a large work area of up to 23 inches (with an auxiliary table attached), the TL-2000Qi can handle large quilts and home decor projects with ease.
Enjoy the ease of sewing and quilting our TL-2000Qi has to offer as it features different tools and accessories perfect for your sewing and quilting projects. With the ability to add our extension table to your workspace, this machine is ideal for portable use and creating large projects with more freedom of room to play in!
Key Features
FOOT CONTROLLER WITH THREAD TRIMMING FUNCTION
It is possible to automatically trim both needle and bobbin threads by pressing the heel side of foot controller. The foot controller is big enough and it is easy to control sewing start and stop.
LED LIGHT
This brightens the needle area for better material handling. Cuts down on eyestrain as well.
AUTOMATIC THREAD TRIMMER
The machine is equipped with an automatic thread trimmer device that simultaneously trims the needle and bobbin threads at the sewing end. All it takes is a gentle push on the push-button. It uses the thread trimming mechanism.
EVEN FEED FOOT
The even feed foot makes a reliable feed. It ensures beautiful seams when sewing difficult-to-feed fabrics such as georgette and velvets. Also works well on heavy weight materials such as leather.
SEW HEAVY WEIGHT MATERIALS WITH EASE
The speed control mechanism is operated by microcomputer for precise control. It allows the machine to sew materials at low speeds. This provides for accurate feed and perfect stitching when sewing heavy weight fabric, quilting and multiple layers of materials.
PREDETERMINED NEEDLE STOP POSITION
When you stop sewing, the Juki TL-2000QI comes to an accurate stop with the needle down. To move the needle up or down as desired, simply press the needle up/down button.
FEED DOGS
The feed dog can be raised and lowered simply by pressing a switch. When quilting, the drop feed allows you to sew curved stitches with ease.
KNEE LIFTER LEVER
The knee lifter lever lifts / lowers the presser foot without using your hands. The presser foot can be raised as high as 12mm.
Features
Large work area. Wider handling area than conventional sewing machines
Longer arm and sewing bed for easy handling of quilts
High sewing speeds up to 1,500 spm
Automatic bobbin winder
Light weight and portable
Supplied with HA-type needles
Arm and bed of Juki TL2000Qi is constructed of die cast aluminum
Basic sewing functions operated by foot pedal
More from this collection