Brother ScanNCut SDX325 Innovis Edition with WLAN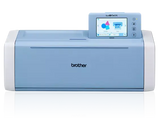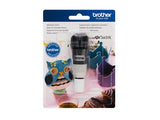 Description
The perfect fabric cutting companion!
Cuts materials up to 3mm in thickness‡
Wireless LAN (WLAN) Functionality
ABOUT THE PRODUCT
For the crafting hobbyist who loves fabric, the ScanNCut DX SDX325 is the perfect addition to any sewing studio or craft room. The all NEW WLAN feature allows you to seamlessly transfer your designs back and forth between the ScanNCut DX and a Brother XP sewing machine using the 'My Connection' tile. With over 1300 built-in designs, Blade Sensor Technology (cut materials up to 3MM‡ thick), and a built-in scanner, the SDX325 can provide endless creativity. The stand-alone SDX325 has a generous 5" LCD touchscreen display that allows for unlimited editing, resizing, and rotating both built-in and homemade designs and patterns.With the Thin Fabric Auto Blade, you can cut fabric for quilting and raw edge applique purposes so you can quilt with ease and save time by cutting multiple pieces for your projects. Combine your love of fabric and crafting into one with the SDX325.
Main Features

Blade Sensor Technology: The Blade Sensor Technology can cut materials efficiently and cleanly up to 3mm‡ thick and automatically detects the thickness of your materials to cut custom and built-in patterns.
Wireless Network Ready: Feel the freedom of cables with a wireless connection via PC, mobile device, or tablet when connected to your wireless network.
Brother Sewing machine compatible: Your ScanNCut DX and your Brother XP sewing machine can now talk to one another. When connected to your home network, use the My Connection tile on the home screen to utilize the send/retrieve function between the ScanNCut DX and the Brother XP sewing machine. This takes the place of using a USB to transfer designs between these machines and is exclusive to the SDX325.
Color Display: The intuitive and generous 5" LCD touch screen display is ideal for many onscreen functions such as editing, formatting, resizing, cutting, rotating, welding, and scanning. Easily convert your scanned designs into custom cut or draw files. Customize designs by changing the shape, size, or position, even using just part of a design.
Built-in Scanner: The only electronic cutting machine with a built-in scanner (up to 600 DPI from Scan to USB function), the SDX325 allows you to seamlessly scan hand-drawn designs and sketches and turn them into one-of-a-kind projects.
Seam Allowance and Sewing Guidelines: The ScanNCut DX SDX325 gives you the ability to add a seam allowance in ¼" increments to assist you in piecing together fabric pieces for your quilts, clothing, and more. You can even utilize the erasable pens (air soluble and water-soluble) to create sewing guidelines on your designs to assure virtually perfect placement of your stitches.
CanvasWorkspace compatible: Browse a library of designs in a wide range of categories for plenty of crafting inspiration for your next fun project on the Free Brother CanvasWorkspace design platform website.
Included accessories: Everything you need to start crafting right out of the box including Getting Started Guide & 12" x 12" Cardstock, Accessories Pouch with Spatula and Stylus, My Connection Activation Card for XP, 12" x 12" Fabric Mat, Iron-On Fabric Applique Sheet (2PCS), Pen Holder, Erasable Pen Set (2PCS), Auto Blade with Holder, Thin Fabric Auto Blade with Holder, 12" x 12" Standard Tack Mat
Scan-to-cut Data: Now with a smooth line feature getting more clean cuts is easy, simply select from three settings (low, middle, high) on the machine to fine-tune your scanned image to a more precise cutting line. Scan and convert to cut data. Using the technology of the smart scanner, scan in your design and save it as data to cut or draw. ScanNCut DX will create cut lines automatically, and then within minutes, hand drawn elements can grace the pages of your artwork as a cut element or drawing with the assistance of the pen draw feature.
More from this collection