Janome Needles - Blue Tip, Size 11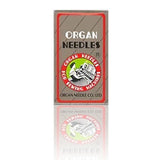 Description
Janome Needles - Blue Tip, Size 11
The Blue Tip needle, a Janome exclusive, is a size #11 and is
our best "all purpose" needle for both machine embroidery and
general seiwng on most types of fabrics. The needle's special
feature is an oversize eye to accommodate embroidery thread.
It reduces stress and tension on the top thread and makes threading
easier.


Use with: All Janome sewing machines (flat back needle
type)
More from this collection