Titanium Organ Needles for Sewing and Embroidery Size 90/14 (package of 10)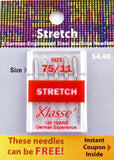 Description
Organ Titanium Needles for Embroidery
Organ needles are the most popular for home sewing and
embroidery, and are the most widely-used by most sewing machine
manufacturers. They can be used in any home sewing machine in place
of Schmetz, Brother, and Singer Needles.

Buy Organ Needles for their high-quality, outstanding perfomance
and great price.
Titanium Needles are strong, durable and work well for machine
embroidery especially when using adhesive stabilizer. Titanium
needles provide smooth stitching with no thread fraying.
More from this collection