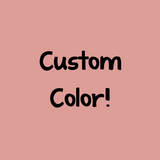 Description
Siser's shimmery and pearlescent color line of standard heat transfer vinyl is here! EasyWeed Electric has the signature characteristics: easy to cut and weed, even smaller and intricate details, and is thinner than most vinyl. Make a fashion statement with these electrifying colors without sacrificing the soft feel!
Specifications:
CPSIA Certified as safe for use on all ages t-shirts and garments!
Compatible Fabrics: Cotton, Polyester, Cotton/Poly Blends, Leather
Shimmery, metallic finish and just 85 microns thick for stunning and comfy personalization across a wide range of apparel or fabric goods
Lined on a pressure-sensitive carrier for easy cut and weeding, even with intricate and fine detail designs
Care: Store unused roll media in dark/dry/cool area for up to 1 year for best results.
Due to manufacturing and cut-down process, it is possible that actual roll/material width may vary up to 0.25 inches
Please note: Siser EasyWeed Electric is heat transfer vinyl meant for use with a vinyl cutter with the use of foils. This is not a printable vinyl. Do not attempt to run it through a printer.
More from this collection